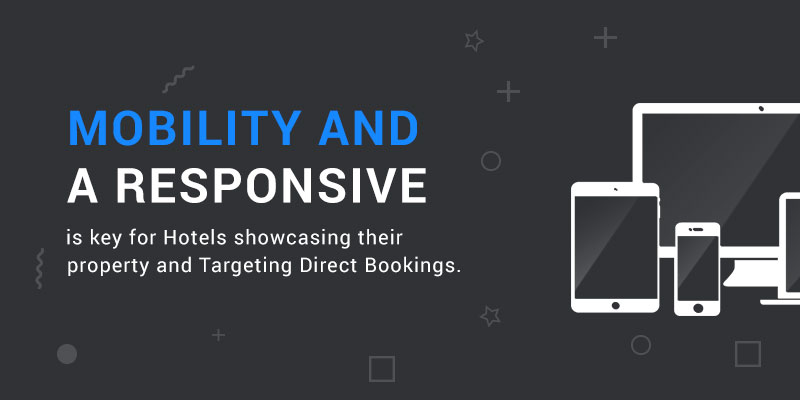 Mobility and a Responsive Website is key for Hotels showcasing their property and Targeting Direct Bookings.
Technological Innovation and product evolution are the driving forces changing the way people plan their travel journeys. The wireless mobility our smart phones offer allow us to break free from legacy platforms like the Desktop Computer.
In today's digital economy – It's never been easier to travel independently or build our own travel itinerary based on a preferred budget or choice of hotel.
Taking a closer look at how travel is bought and sold with the help of new technologies – like the internet and the Smart Phone, provides insights how both are empowering people and setting new standards in hospitality marketing and sales.
Empowerment through technology allows you, me and collectively - the Free Independent Traveler to make an informed decision about how to source, get feedback and find the most suitable holiday package available.
Hotels slow to recognize or adapt to the trend, will find it harder to compete with other hotels, their agents or for that matter maintain their average daily rates.
THREATS FROM DIGITAL MARKETING:
If a hotel uses a website to show case their product (and which hotel doesn't) and the website is not designed to take advantage of Smart Phone technology they could be missing a very important marketing opportunity.
Rejuvenating an older generation HTML website with Responsive HTML-5 … is a good start.
Also, if the hotel is not inviting its guest to engage - they are also missing out on important "point of contact" opportunities – such as refreshed images, streaming video and even Social Media and Chat.
IS MY WEBSITE LEGACY DESIGN ?
A quick way check is to open your website on your Smart Phone or Tablet PC. If the information is not easy to read (small text) or if menus are difficult to find or navigate or you simply feel frustrated with the way information is offered - there's a good chance you have a Legacy website.
By comparison, try viewing a similar website designed in HTML – 5 and you can see the technical limitations of the older generation website.
So even though your website looks good on a Desktop – don't forget this could be a whole different story on a Smart Phone.
THE SOLUTION?
Simply put … the Responsive Website.
Remember the Website is the key entry point to your hotel and a feeder to your Social Media so both should complement each other.
A responsive uses HTML-5 coding which automatically adjusts your webpages to fit smaller device screens – ensuring a better usage experience. Not only that it also works on the Desktop so you're getting the best of both worlds….
With the responsive website – the Navigation Menu is tucked away and hidden inside a "clickable drawer" When clicked - it opens up allowing you to find your way to other pages in your website quickly and easily.
From your website engaging your guests is paramount in the digital economy. You can engage them with Photo Essays of your Rooms / Amenities / Facilities and even 360 degree walk-through panoramas.
Let's face it - how boring is a static website with rudimentary photos?
Importantly the hotel should also consider the power of Social Media such as Facebook, Instagram or Twitter to keep your guest in contact with the hotel through a "live stream" environment. This allows guest to always have a glimpse of what's going on at "any one point in time" before and after their travel journey begins.
Also - remember that Google's algorithm favors responsive websites and rewards organic keyword rankings to those sites … so it makes sense to up grade!
To back this up - a recent report by McKinsey & Company found that Google claims that about 60% of visitors will most likely not go back to a website site they had trouble viewing or accessing information and that 40% will most likely visit a competitor's site with similar information.
And let's not forget that Google's "other" policy (as a provider) is to offer their users (you) the best usage experience! Therefore, it's easy to see why and how Google discriminates against sites appearing first in their organic search engine rankings!
DIRECT BOOKINGS - BETTER CONVERSIONS:
More then just having a great looking website – the hotel must consider complementing this with a "point of sale" booking facility allowing potential guests to make instant confirmed bookings quickly and easily.
Putting it all together, because the majorly of page views are coming from people using their Smart Phones the booking engine needs to be responsive as well.
Remember too that the lead time for direct bookings is getting shorter and shorter, so to achieve a better conversion to sales from Direct Bookings – the booking engine needs to be responsive and clearly visible from any and all pages in the website with highly visible buttons prompting the user to engage with reservations.
Often referred to as a Booking Engine Widget – the Widget needs to be able to prompt the user … with words like "CHECK AVAILABILITY", "BOOK NOW" or "MAKE A RESERVASION".
PLAN FOR CHANGE:
The only constant in life is change and to remain competitive for the future, hotels should understand the evolving usage behavior of travelers and satisfy their requirement to source information and make bookings on-line.
For today however, with a responsive booking engine and website your hotel information will always be easy to view and book with the latest smart phone or gadget